Mister Vee self steering* started out from a need to solve a particular mounting problem, on a small boat with a centrally mounted outboard engine.
Even though the resulting system (Mr. Vane) is no longer on offer, its legacy is still at the heart of Mister Vee windvane self steering.
After Plastimo stopped manufacturing Navik self steering systems, Mister Vee got permission to make replacement parts for Navik.
* The brand name is Mister Vee, not Mr. V, or Mr. Vee or Mister V. ;-)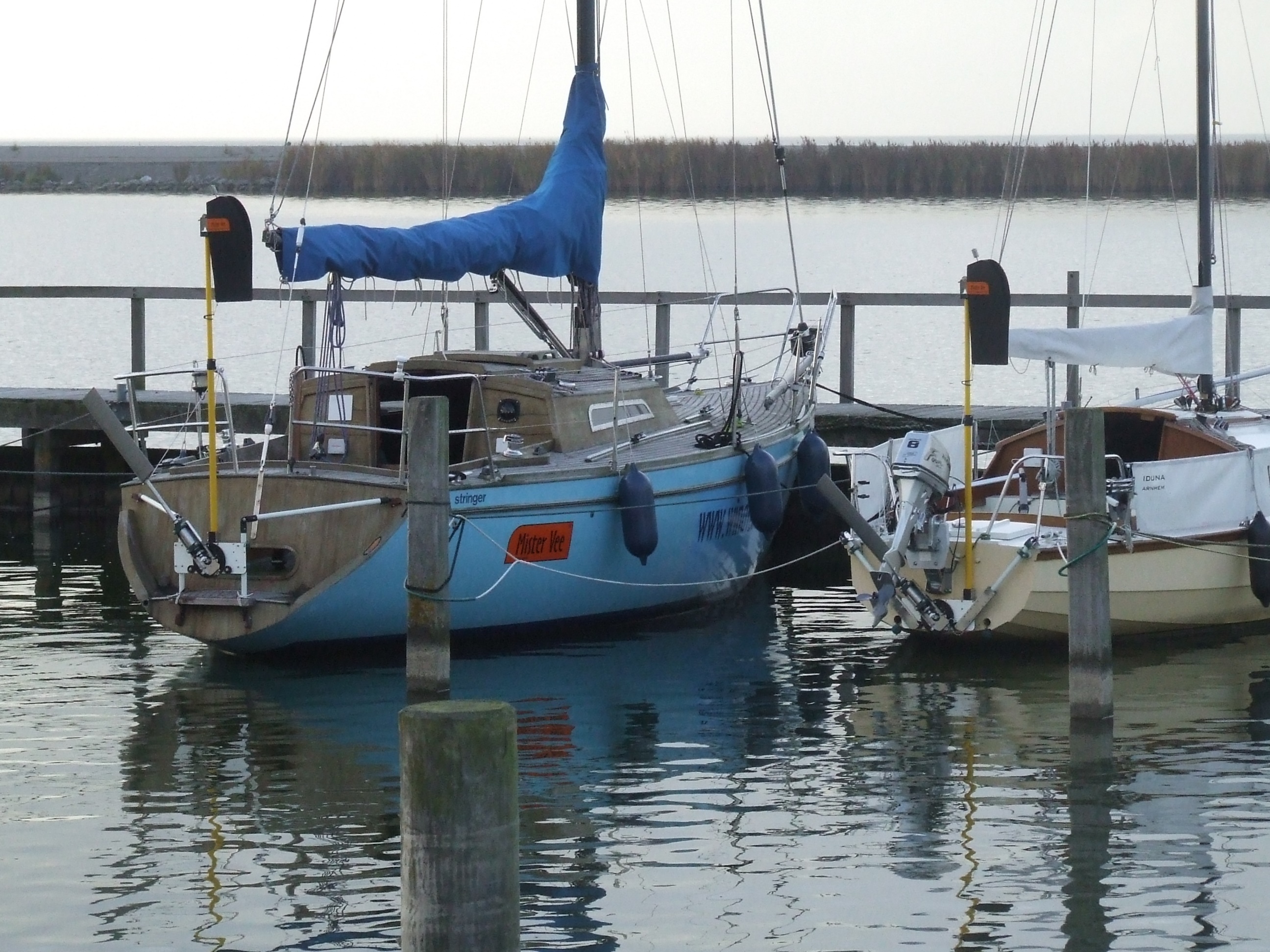 "First of all I'd like say, I am very pleased with my Mr. Vane which I
finally mounted on my Hurley 22. It worked perfectly on the first try."
Main Features:
Super precise steering
How?
The combination of design choices and low friction materials gives a very responsive system resulting in steering with very little zig or zag.
This is most important in low (apparent) wind conditions, especially on off wind courses.
Single size UpSideDown Windvane
Mister Vee is the first and only company to offer systems with a single size size windvane blade that rotates underneath its axis. Why is this important?
On down wind courses with little heel a normal vane has maximum steering ability which is mostly not necessary and can easily cause oversteering which results in a zig-zag course.
USD (Up Side Down) windvanes are better suitable for down wind courses: less zig-zagging is safer.
This discovery was made by Dutch wind vane steering expert Jan Alkema who published his findings in sailing magazines and on the internet.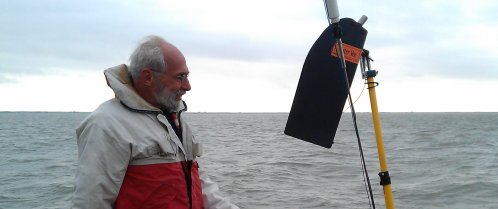 Jan Alkema Looking at the Mister Vee version of his USD windvane concept
Low weight
From the start, the Mister Vee design was aimed at reducing weight. Finding ways to use modern plastics instead of metals had a huge impact on weight and ultimately, sensitivity.
Materials
Besides plastics, of which some are carbon- or glass fiber reinforced, some parts need properties that plastics cannot meet.
Where mechanical requirements or cost effectiveness dictate it, stainless steel is used. Where possible this is 316 grade.
Standard parts where possible
One key way to keep costs down is to use standard parts and materials wherever possible.
Super sensitive+UpSideDown=Stable course
Because of the lower overall weight, using acetal/glass ball bearings became possible. By using these in almost all wind driven axis, the Mister Vee self steering systems are possibly the most sensitive systems around. But why would you care about that?
Windvane self steering systems use change in the direction of apparent wind to steer the boat. The lower the friction in the system is, the less (apparent) wind force is needed to start working.
This is why you get just one windvane size with the system, where some brands offer a light weight bigger blade for light airs.
Mister Vee systems just do not need this larger windvane for light air performance, nor does it need a stronger blade for more wind. Since the start in 2006 the number of replacement blades ordered is zero. Naught. Null, 0.
Compare the next video of Y&B steering to similar videos from other brands.
The wind from behind is the most challenging course for any windvane self steering system. Look a the clouds behind the windvane and see how quickly and smoothly a Mister Vee self steering system controls your boats course:
Gentle self steering on a running course
Customizable
The way Mister Vee systems were designed differs a lot from conventional systems.
As a result the individual parts are simpler and this makes for very easy customization should you desire it. You can have this done for you or do the work yourself.
"All in all, the self-steering system is a well-engineered piece of equipment and I am quite pleased with the design and workmanship. Well done."
The first WALT BYO customer about his self steering system.
Available models
Mister Vee carry a wide range of variants that allow mounting a windvane self steering system on just about any transom.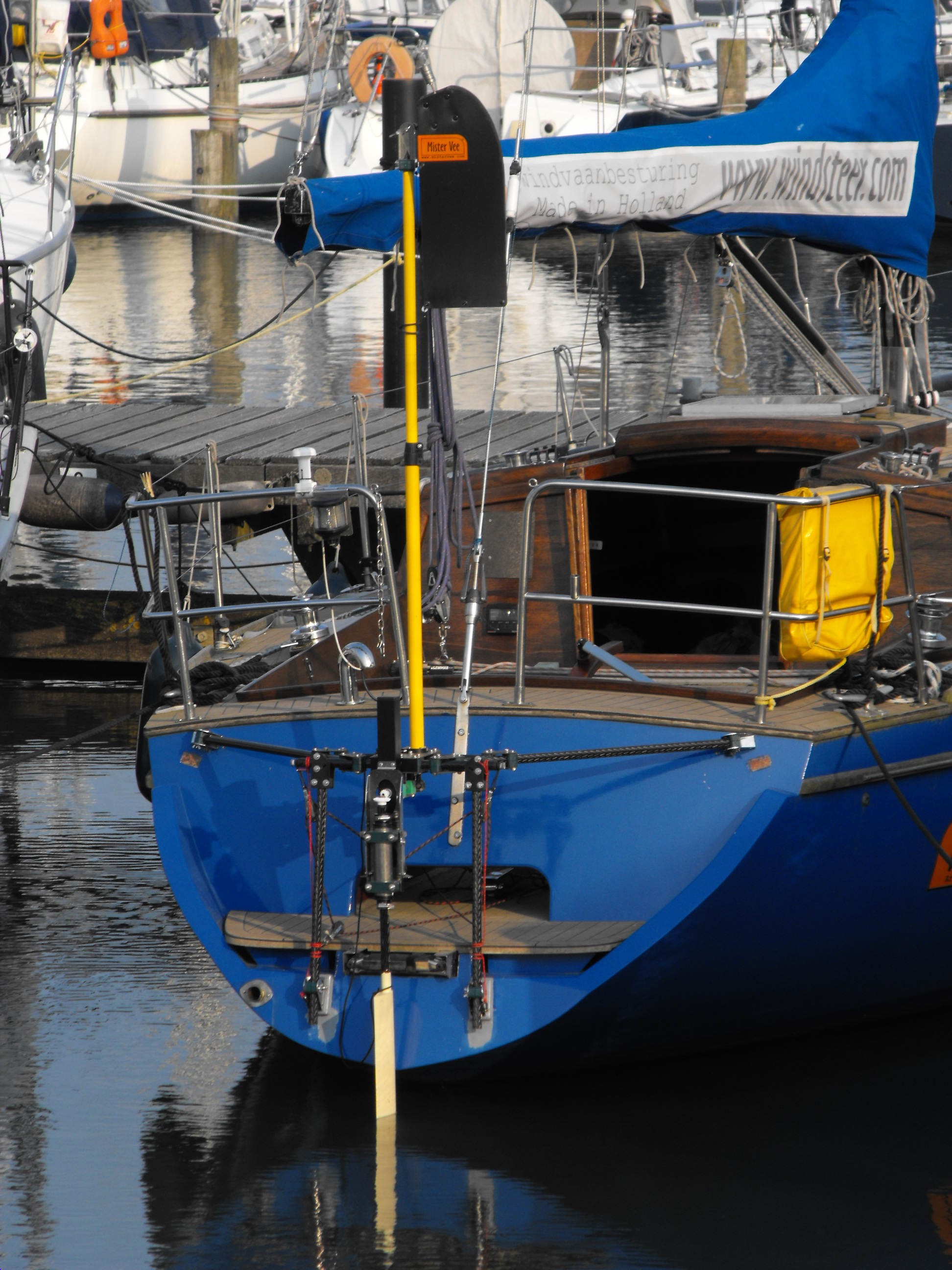 Y&B on the Mister Vee show boat: 10 kg/22LBS.
Bonuses in the Mister Vee designs
Theft prevention
Both the windvane and the pendulum rudder can be quickly removed from the system. These most valuable bits can then be stored inside the boat without any hassle.
Overload protection
The mechanism that lets you disconnect the pendulum rudder also releases when the it is struck by something in the water.
Repairs
The  way Mister Vee systems are constructed means that if something were to break (which is very, very rare) the broken bits can be replaced easily and cheaply, where most competitors would need welded bits or castings replaced at very high cost.
For more information about the Mister Vee self steering systems, please download the complete brochure from the download section.