Wind vane self steering from Mister Vee
Low weight
Affordable
Super sensitive
Customisable
The Mister Vee systems were designed to provide an alternative to the systems that had not changed significantly in decades. Those systems were (and still are) heavy, expensive and insensitive.
Low weight
From the start, the Mister Vee design was aimed at reducing weight. Finding ways to use modern plastics instead of metals had a huge impact on price, weight and ultimately, sensitivity.
Materials
Where possible, plastics are used, some of which are fibre reinforced.
For parts where mechanical requirements or cost effectiveness dictate it, stainless steel is used. Where possible this is 316 grade.
Affordable
Because more parts were made of plastic, manufacturing is cheaper.
The first years, systems were shipped as a set of parts for self assembly. But at the end of 2012 Mister Vee started shipping mostly assembled systems.
Because of our focus on low weight and affordability you get an affordable high performance system in a small package: cheap world wide shipping.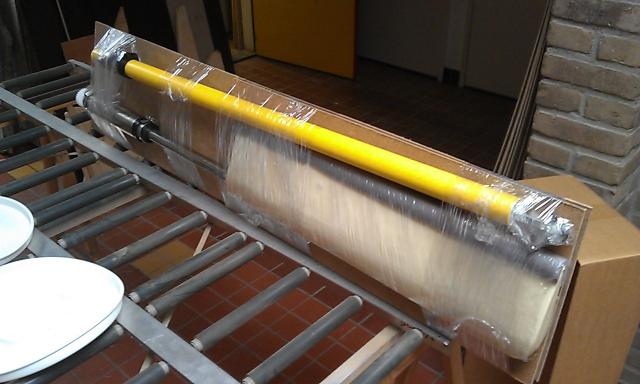 Mr. Vane almost ready for shipping in the cardboard tube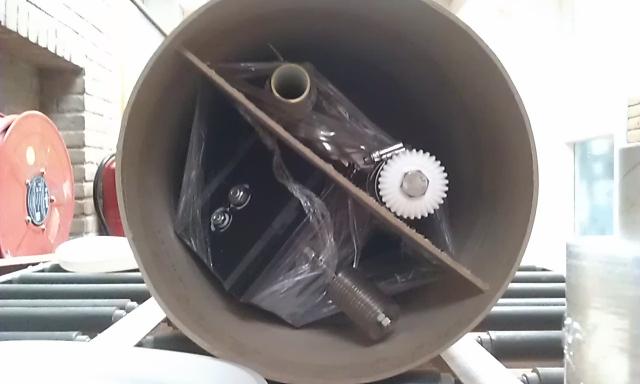 Mr. Vane in the cardboard tube
Super sensitive
Because of the lower overall weight, using acetal/glass ball bearings became possible. By using these in almost all wind driven axis, the Mister Vee self steering systems are possibly the most sensitive systems around. But why would you care about that?
Windvane self steering systems use change in the direction of apparent wind to steer the boat. The lower the friction in the system is, the less apparent wind is needed to start working.
The next video shows Y&B steering with the wind from behind, the most challenging course for any windvane self steering system. Look a the clouds behind the windvane and see how quickly and smoothly a Mister Vee self steering system controls your boats course:
Gentle self steering on a running course
Customisable
The way Mister Vee systems were designed differs a lot from conventional systems.
As a result the individual parts are simpler and this makes for very easy customisation should you desire it. You can have this done for you or do the work yourself.
"All in all, the self-steering system is a well-engineered piece of equipment and I am quite pleased with the design and workmanship. Well done."

The first WALT BYO customer about his self steering system.
Available models
Mister Vee currently carry two distinct product lines:
Y&B
Mr. Vane (being discontinued, just one remaining)
These systems share the majority of the mechanical components and when mounted correctly will offer similar performance.
They differ in the options they offer for mounting.
The Standard version of Y&B includes a super versatile mounting kit that allows for most transoms.
Other versions included less of the mounting kit if you need or want to make a custom mounting.
Y&B can also be easily be customised to suit a particular mounting need.
Mr. Vane has a very flat vane base that can sometimes be combined with a centrally mounted outboard engine.
Bonuses in the Mister Vee designs
Theft prevention
Both the windvane and the pendulum rudder can be easily removed from the system. The valuable bits can be stored inside the boat without any hassle.
Overload protection
The mechanism that lets you disconnect the pendulumrudder also releases when the pendulumrudder is struck by something in the water.
USD Windvane
Mister Vee is the first and only company to offer systems with a windvane blade that rotates underneath its axis. Why is this important?
On down wind courses with little heel a normal vane has maximum steering ability which is mostly not necessary and can easily cause oversteering. USD (Up Side Down) windvanes are better suitable for down wind courses: they prevent oversteering. This discovery was made a couple of years ago by Dutch wind vane steering expert Jan Alkema who published his findings in sailing magazines and on the internet.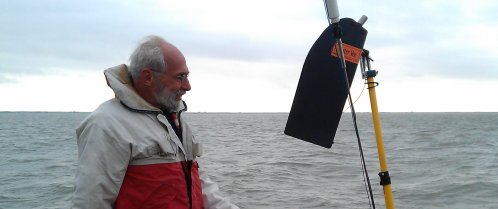 Jan Alkema Looking at the Mister Vee version of his USD windvane concept

At just 1260 grams the complete windvane is lighter than most competitors windvane-counterweight!
The Unique USD windvane enhances performance
For more information about the Mister Vee self steering systems, please download the complete brochure from the download section.