Currently Mister Vee is working on the development of WoodenB, the Self steering system to be finished with epoxy and paint. This system is aimed to be ready for first deliveries in Autumn 2020.
Considering: Offering two versions, WoodenB as shown below and WoodenB The parts without the plywood
Status: In prototyping
Current step: Test fitting prototype parts, reviewing processes, making videos
The system shares a lot of components with Y&B and when finished well should give more or less the same performance.
The design of WoodenB has its emphasis on an easy to understand building- and mounting process as well as suitability for many transom configurations, just as Mister Vee Y&B.
Note that this page is a work in progress and the final system details may be different.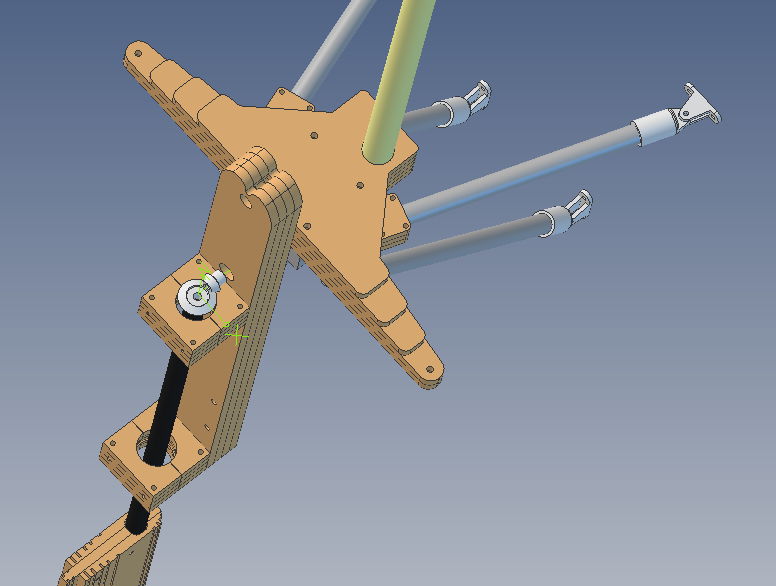 Latest version pictured above
Made from cnc routed plywood, based on the lay out of Y&B. Where plywood is not suitable, parts from Y&B are used.
Videos of the first prototype in the making:
Features:
Versatile mounting kit (without the "sprayhood parts" for an even lower purchase price)
Cnc made plywood parts (12 mm, about 1/2" thick)
Carbon fiber pendulum rudder stock
Acetal glass ball bearing, PE bearings, and ceramic ball bearings for the pendulum rudder
Mister Vee UpSIdeDown windvane, mast and pushrod
Plastic gears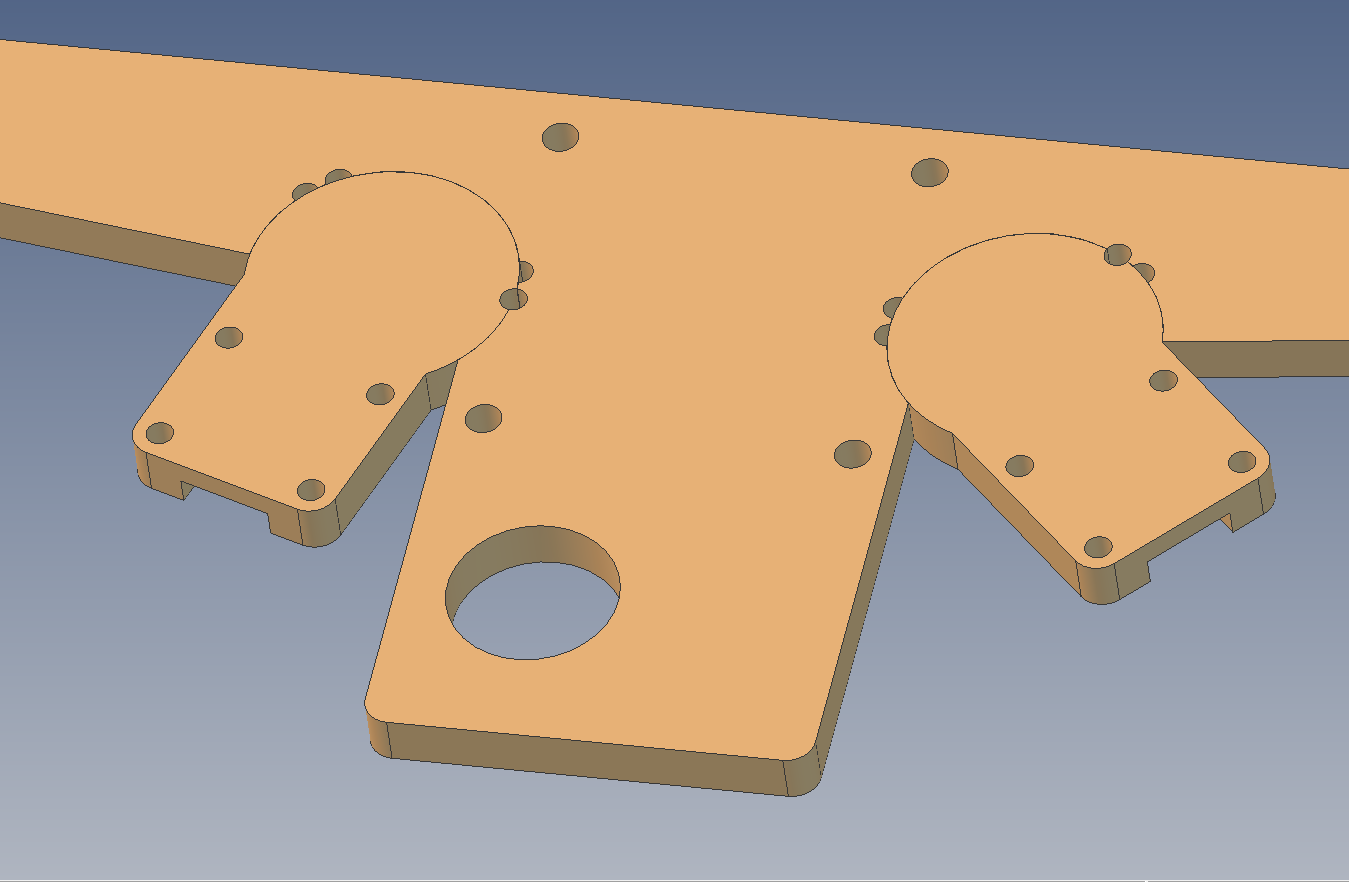 The mounting solution allows for a mounting almost the same as with Y&B, on most transom configurations including around and behind a transom hung rudder.
It can be set with the tubes wide or narrow and any angle inbetween.
In this image, the portside tube (on the right) is at about 47 degrees, the starbord side tube at about 18 degrees. Any angle between 3 and 47 degrees can be used and to help during mounting the angle can be fixed at 3, 18, 32 and 47 degrees,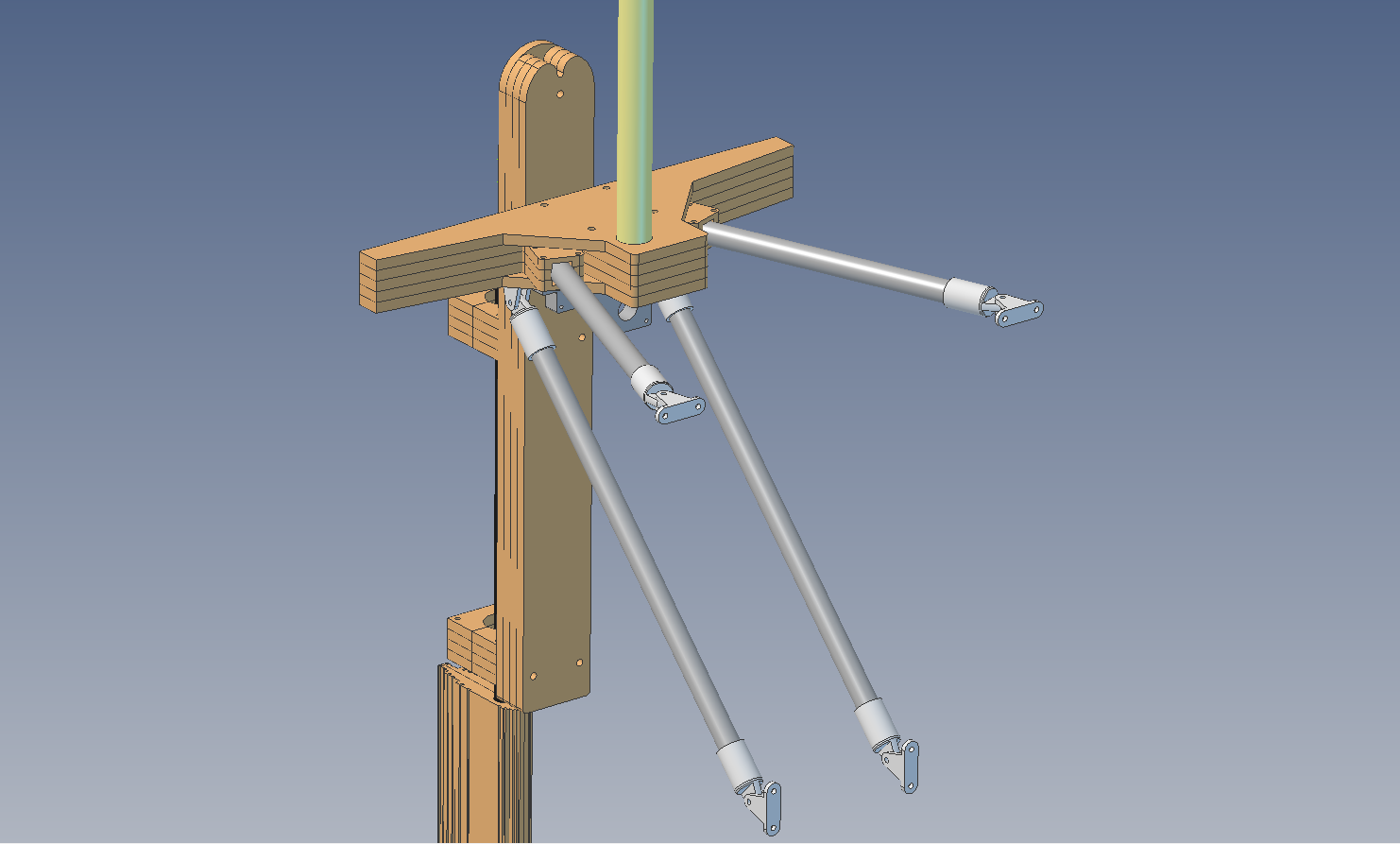 The parts for mounting are standard sprayhood parts. You will need to source these yourself.
The rudder is of course made of plywood too, after the first gluing it looks as seen in the images above.
Shaped in the rough, ready to be sanded to its final shape, with cuts to guide you during sanding.
To complete WoodenB you require (list is still being completed) :
Materials
Epoxy
Cotton fibers (for use with epoxy)
Epoxy consumables like cups, gloves, stiring sticks etc.
Polyurethane caulcing
Paint
4 or 5 mm Dyneema/Spectra for steering lines
Guide blocks (2 on the system and minimum of 2 on the boat)
25 mm/1" aluminium tube and fittings for mounting
 
Tools
Clamps, 60 mm/2.5" minimum (primarily needed during fitting to the boat)
8 mm drill bit
Hacksaw
Machine sander plus sandpaper
Optional: Drill press
Tasks
Dry assemble all the parts, to get an insight of bonding sequence
Bond the first batch of parts to prepare for dry fitting on the boat
Sand the pendulum rudder to its profile
Bond all parts and coat with epoxy
Paint for protection against UV
Mount to the boat
Go Sailing
 
Earlier newsletters:
---
Working out WoodenB, an affordable self build self steering system
Creating affordable windvane self steering
Hello sailor,
It has been clear to me that there is a good interest in very affordable windvane self steering, since the start of Mister Vee.
The response to the last newsletter has confirmed that.
But actually delivering such a system is no easy feat.
I've been trying to figure out a way to be able to offer a cheap system on and off since 2007.
I actually offered super affordable self steering before,] with DIY WALT. This system turned out to be the base from which the current Y&B developed.
DIY WALT taught me how hard it is to offer a self steering solution that is affordable, that can be built with average DIY skills, and is of use when it is finally mounted on the boat.
As it turned out, I did not get that mix right with DIY WALT.
For a minority of customers it was too complicated to build, but those customers then took so much time in support that it was impossible for me to continue offering it.
So where DIY WALT was a kit, with quality materials and drawings to make all the parts with, a new system would need to be more "assembly only".
I think I have an outline now that could work this way.
WoodenB, affordable windvane self steering for eu 500.-- (Turned out to be impossible):
Has the same layout as Y&B
Shares some components with Y&B...
...But where possible, parts have been replaced with precision machined plywood
These plywood parts need to be coated and bonded together with epoxy
All the wood needs to be painted to protect the epoxy from UV radiation
Does not get direct support from Mister Vee
Is a puzzle to fit to the back of your boat
Some finer details:
There is no manual to build the system except for very basic guidelines, there will not be direct support from me.
I will set up a forum where owners can help each other.
The system has the same basic outline as Y&B
The Y&B assembly manual is available for reference
All but a few of the custom made parts are precision machined plywood
The plywood has to be glued up together and finished with epoxy, which is not included with the kit
The plywood parts should only fit together one way
The pendulum rudder is layered plywood plus a carbon fiber tube
The pendulum rudder bearings are ceramic ball bearings
The transmission of the windvane movement is the same as Y&B
The pendulum rudder can (probably) not be removed for storage
Besides the gluing/coating, only sanding and assembly would be needed
After applying the epoxy the plywood has to be painted to protect the epoxy from UV light
---
Developing WoodenB affordable self steering: Concepting
Hello sailor!
First, thank you for subscribing to the WoodenB newsletter!
It has shown that at the very least there is interest in an affordable self steering system, and that it is worth the effort to work on the concept.
Over the last few weeks I have done some design work which in turn helps in concepting the new system.
In this email I will try to tell you a bit about the ideas and challenges I see so far.
If you have any thought on them, I'd love to read your reply.
______________________
Easy assembly
My main aim in designing WoodenB is for it to suit a lot of sailors that are willing to do practical work to finish their system, without that work being critical in the level of execution.
That means that "assembly should be easy".
The easier I can get it, the less I need to do in support and the more people can actually get the result going on their boat.
This is why WoodenB will not be super cheap.
To simplify the work, higher quality parts are needed than were used in DIY WALT, the first true kit I offered. And the system will also will require some assembly from me.
So far it seems that there is one real technical challenge and a one big design challenge.
The technical challenge will need some testing and the the whole project will literally hinge on getting this to work.
The design challenge is on mounting.
Where with Y&B there is just one method that will suit just about any transom configuration, I am afraid I'll have to offer two for WoodenB, with two different prices.
In the quest for the lowest price I would prefer to offer no way of mounting at all. But for this system to offer a self steering solution for the biggest number of sailors, a mounting solution needs to be included.
To not let costs spiral out of control, the mounting needs to be plywood, so it can be made together with the bulk of the parts.
But to make a distant mounting from plywood, suitable for mounting around a transom hung rudder, that would be difficult, and probably super ugly.
So I am afraid that if I have to offer a more sleek mounting system that can be used more or less like Y&B, but that would need to cost more.