10 KG/22 LBS Self steering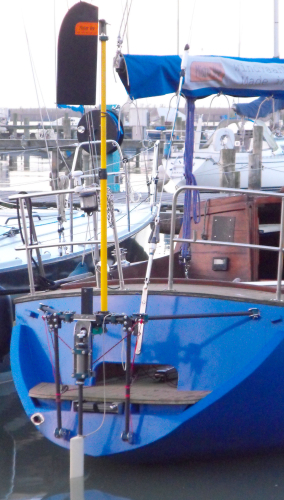 The Light weight option:
At around 10 kgs (22lbs) in the configuration shown on the right, Y&B is easily the lightest windvane self steering system available.
Super versatile mounting system
Pendulum rudder is glass fibre/epoxy foam, with a carbon fibre stock
Carbon fibre mounting tubes
Other parts except the windvane are glass fibre and stainless steel
Acetal bearings in the pendulum rudder
PE/steel bearings in the pendulum axle
Acetal/glass ball bearings in the windvane
High performance plastic bevel gears
The configuration shown on the right uses an extra mounting tube, available from the shop.
You supply:
Rope for the steering lines (5 mm dyneema/spectra)
Guide blocks on the boat (usually 2)
Nuts & bolts to connect the system to the boat
For the most complete information, please refer to the Mister Vee brochure, available from the download section.