Mister Vee Y&B Std (incl. mounting kit)
€ 1,395.00
incl VAT (only applied in the EU)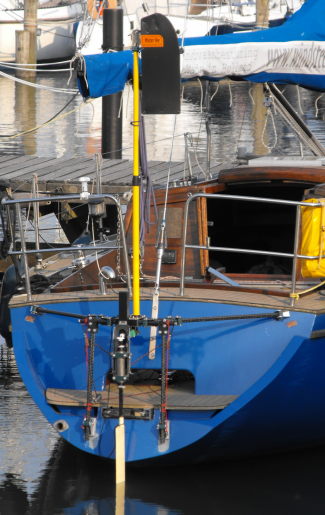 Y&B, The most up to date developement wind vane self steering, made by Mister Vee:
Versatile mounting kit, suitable for just about any situation, easy mounting process
Super light weight, about 10 kg/23 lbs, including mounting kit!(Mounting as on the blue boat requires extra mounting tube)
Improved High efficiency HD epoxy foam pendulum rudder
Suitable for transoms 1 and 3 with angles of up to 20 degrees from vertical.
Order an extra mounting tube for transom configurations 2,4 and 5.
Customisable
The unique way in which the Mister Vee systems are built allow for easy modification of the standard configuration. One of the most important options is having an extended vane base made. This brings the windvane closer to the cockpit on boats with transom type 3 or 4.
Here is a Y&B on a Northbeach 24 with a transom hung rudder:
And another on a Marsvin, also transom hung rudder:
Video of part of the trials: